The Facta Universitatis, Series: Architecture and Civil Engineering (FU Arch Civ Eng) is an open access peer-reviewed international journal published by the University of Niš (Republic of Serbia). We publish high quality, refereed papers three times a year. Papers reporting original research or extended versions of the already published conference/journal papers are all welcome. Papers for publication are selected through peer reviewing to ensure originality, relevance, and readability. This journal provides immediate open access to its content on the principle that making research freely available to the public supports a greater global exchange of knowledge.
Editor-in-Chief: Prof. Dr. Zoran Bonić
In order to create/register an account for submitting a paper, first time authors are to contact the Computer Support at mile@ni.ac.rs stating your first name, last name, affiliation with the link, and your email. We will then send you back an email with your login parameters. Once you receive your parameters from us you will then be able to log in and begin article submission.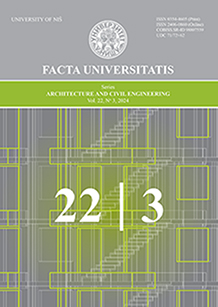 The ONLINE FIRST section of FU Arch Civ Eng lists the papers accepted for publication and copy edited but not yet assigned to an issue.
Reviewers - We gratefully acknowledge the contribution of the reviewers who reviewed papers for Facta Universitatis Series Architecture and Civil Engineering in  2022,  2021 and  2020.
Announcements
No announcements have been published.
Vol. 21, No 1, 2023
Table of Contents
Articles
| | | |
| --- | --- | --- |
| | Radmila Đurašinović, Miljana Zeković | 001-015 |
| | | |
| --- | --- | --- |
| | Jelena Dimitrijević, Zoran Bonić, Dragan Milićević, Zlatko Zafirovski | 017-029 |
| | | |
| --- | --- | --- |
| | Danijela Đurić Mijović, Vuk Milošević, Danijela Milanović, Jelena Savić, Aleksandra Cilić | 031-040 |
| | | |
| --- | --- | --- |
| | Nataša Petković Grozdanović, Branislava Stoiljković, Vladana Petrović, Hristina Krstić | 041-054 |
| | | |
| --- | --- | --- |
| | Nebojša Stefanović, Nataša Danilović Hristić | 073-094 |
| | | |
| --- | --- | --- |
| | Osama Nasir, Mohammad Arif Kamal | 095-114 |
| | | |
| --- | --- | --- |
| | Milica Dobričić, Milica Maksić Mulalić | 115-130 |
| | | |
| --- | --- | --- |
| | Dragana Kocić, Dragana Konstantinovic | 131-148 |
| | | |
| --- | --- | --- |
| | Komnen M. Žižić, Jelena Ristić Trajković, Vladan Djokić | 149-167 |
| | | |
| --- | --- | --- |
| | Lejla Kahrović Handžić, Ana Nikezić | 169-193 |