The Facta Universitatis, Series: Architecture and Civil Engineering (FU Arch Civ Eng) is an open access peer-reviewed international journal published by the University of Niš (Republic of Serbia). We publish high quality, refereed papers three times a year. Papers reporting original research or extended versions of the already published conference/journal papers are all welcome. Papers for publication are selected through peer reviewing to ensure originality, relevance, and readability. This journal provides immediate open access to its content on the principle that making research freely available to the public supports a greater global exchange of knowledge.
Editor-in-Chief: Prof. Dr. Dragoslav Stojić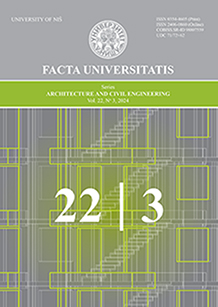 The ONLINE FIRST section of FU Arch Civ Eng lists the papers accepted for publication and copy edited but not yet assigned to an issue.
Reviewers - We gratefully acknowledge the contribution of the reviewers who reviewed papers for Facta Universitatis Series Architecture and Civil Engineering in 2020.
Announcements
No announcements have been published.
Vol. 18, No 3, 2020
Table of Contents
Articles
| | | |
| --- | --- | --- |
| | Nataša Živaljevic-Luxor, Nadja Kurtović-Folić, Petar Mitković | 219-230 |
| | | |
| --- | --- | --- |
| | Toni Yuri Prastowo, Humiras Hardi Purba | 231-240 |
| | | |
| --- | --- | --- |
| | Elefterija Zlatanović, Vlatko Šešov, Dragan Lukić, Zoran Bonić | 241-260 |
| | | |
| --- | --- | --- |
| | Opyn Devinta Mauretta Sihombing, Humiras Hardi Purba, Aleksander Purba | 261-286 |
| | | |
| --- | --- | --- |
| | Milan S. Mirković | 287-307 |
| | | |
| --- | --- | --- |
| | Andreea-Ramona Popa, Gordana Topličić Ćurčić, Srdjan Živković | 309-318 |
| | | |
| --- | --- | --- |
| | Srđan Živković, Marija Spasojević-Šurdilović, Marko Milošević, Nenad Stojković | 319-324 |