The
Facta Universitatis, Series: Economics and Organization (FU Econ Org)
is an open access peer-reviewed international journal published by the University of Niš (Republic of Serbia). We publish high quality, refereed papers four times a year. Papers for publication are selected through peer reviewing to ensure originality, relevance, and readability. The aim of FU Econ Org is to publish peer reviewed research and review articles fast without delay in the developing field of economics and organization.

This journal provides immediate open access to its content on the principle that making research freely available to the public supports a greater global exchange of knowledge.

Journal Facta Universitatis, Series: Economics and organization (FU Econ Org) has been published since 1993.
Editor-in-Chief: Prof. Dejan Spasić, Ph.D.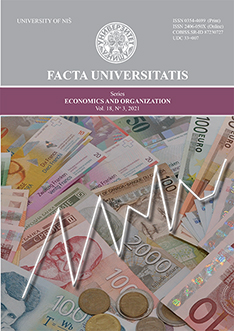 Announcements
No announcements have been published.
Vol. 17, No 1, 2020
Table of Contents
Articles
| | | |
| --- | --- | --- |
| | Mirela Cristea, Gratiela Georgiana Noja, Constantin Stefan Ponea | 001-016 |
| | | |
| --- | --- | --- |
| | Jelena Z. Stanković, Evica Petrović, Ksenija Denčić-Mihajlov | 017-026 |
| | | |
| --- | --- | --- |
| | Emilija Beker Pucar, Olgica Glavaški | 027-041 |
| | | |
| --- | --- | --- |
| | Abdurrauf Idowu Babalola, Saidat Oluwatoyin Onikosi-Alliyu | 043-056 |
| | | |
| --- | --- | --- |
| | Verica Babić, Jelena Nikolić, Marijana Simić | 057-068 |
| | | |
| --- | --- | --- |
| | Milena Nedeljkovic Knezevic, Maja Mijatov, Aleksandra Dragin, Sladjana Nedeljkovic | 069-086 |
| | | |
| --- | --- | --- |
| | Milena Jakšić, Marina Milanović, Dragan Stojković | 087-096 |