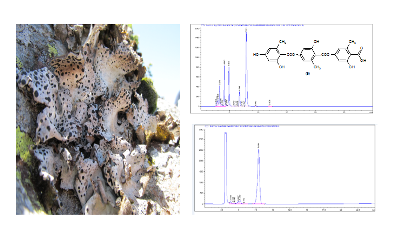 ISOLATION AND IDENTIFICATION OF SECONDARY METABOLITES OF UMBILICARIA CRUSTULOSA (ACH.) FREY
DOI Number
10.2298/FUPCT1602125Z
Abstract
Herein, we have studied secondary metabolites of Umbilicaria crustulosa (Ach.) Frey. By using preparative HPLC, four compounds were isolated from the U. crustulosa methanol extract. The structure of isolated lichen substances was determined on the basis of their 1H, 13C and 2D NMR spectra as follows: methyl orsellinate, lecanoric acid, methyl lecanorate and gyrophoric acid. In addition to methanol, the composition of acetone and ethanol extracts were also studied (analytical HPLC). Relative distributions (%) of the detected constituents were as follows (in methanol/acetone/ethanol extracts): methyl orsellinate (5.7/1.5/0.9), lecanoric acid (17.9/5.7/6.7), crustinic acid (8.0/2.8/2.5), methyl lecanorate (4.8/0/0) and gyrophoric acid (59.2/78.0/85.7). A significant difference in the chemical profiles of the studied extracts was in the presence/absence of methyl esters of lichen acids. Nonetheless, the chemical composition of the ethanol extracts (no ethyl esters were detected) and the fact that treatment of acetone and ethanol extracts with methanol does not lead to changes in their composition suggests that methyl esters were not artifacts of the isolation procedure. The lower content of methyl orsellinate and the absence of methyl lecanorate from acetone and ethanol extracts may be the result of different solubilities of these compounds in methanol, ethanol and acetone.
Keywords
Umbilicaria crustulosa (Ach.) Frey, extracts, HPLC, NMR assignment
References
Buçukoglu, T.Z., Albayrak, S., Halici, M.G., Tay, T., 2013. J.Food Process. Preserv. 37, 1103–1110. DOI: 10.1111/j.1745-4549.2012.00811.x
Huneck, S., Yoshimura, I., 1996. Identification of Lichen Substances, Springer-Verlag Berlin Lawrey, J., 1989. Bryologist. 92, 326–328. DOI: 10.2307/3243401
Manojlović, N., Vasiljević, P., Masković, P.Z., Jusković, M., Bogdanović-Dušanović, G., 2012. Evid. Based Complement. Alternat. Med., 2012, Article ID 452431. DOI: 10.1155/2012/452431
Narui, T., Sawada, K, Takatsuki, S., Okuyama, T., Culberson, C.F., Culberson, W.L., Shibata, S., 1998. Phytochemistry, 48, 815–822. DOI: 10.1016/S0031-9422(97)00958-8
Serina, E., Arroyo, R., Manrique, E., Sancho, L.G., 1996. Bryologist 99, 335–342. DOI: 10.2307/3244307
Stojanović, I., Radulović, N., Mitrović, T., Stamenković, S., Stojanović, G., 2011. J. Serb. Chem. Soc., 76, 987– 994. DOI: 10.2298/JSC101004087S
Refbacks
There are currently no refbacks.
ISSN 0354-4656 (print)
ISSN 2406-0879 (online)