The Facta Universitatis, Series Physical Education and Sport (FU Phys Ed Sport) is an open access peer-reviewed international journal published by the University of Niš (Republic of Serbia). The aim of FU Phys Ed Sport is to publish peer reviewed research and review articles fast without delay in the field of sport physical education and related topics. Papers for publication are selected through peer reviewing to ensure originality, relevance, and readability.
ISSN 1451 740X
Editor-in-Chief: Saša Bubanj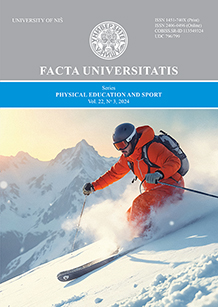 Announcements
XX International Scientific Conference in Niš "FIS COMMUNICATIONS 2017"

Faculty of Sport and Physical Education, University of Niš
in cooperation with the Ministry of Education, Science and Technological Development of the Republic of Serbia
organizes XX International Scientific Conference "FIS COMMUNICATIONS 2017" on October 19-21th, 2017.
Posted: 2017-08-05
More...
Vol. 15, No 2, 2017
Table of Contents
Articles
| | | |
| --- | --- | --- |
| | Goran Janković, Željka Stanojević, Sanja Mazić, Nikola Topalović, Dragan Đurđević, Aleksandra Isakovic | 239-248 |
| | | |
| --- | --- | --- |
| | Robert George Lockie | 249-259 |
| | | |
| --- | --- | --- |
| | Anita Šolaja, Milan Šolaja | 261-270 |
| | | |
| --- | --- | --- |
| | Stojan Puhalj, Blaž Lešnik | 271-276 |
| | | |
| --- | --- | --- |
| | Ninoslav Golubović, Marija Dimić, Stevan Stamenković | 277-282 |
| | | |
| --- | --- | --- |
| | Bisera Jevtić, Brane Mikanović | 283-293 |
| | | |
| --- | --- | --- |
| | Ozan Sever, Erdal Zorba | 295-307 |
| | | |
| --- | --- | --- |
| | Miloš Paunović, Saša Veličković, Vladan Vukašinović | 309-320 |
| | | |
| --- | --- | --- |
| | Milan Ignjatović, Daniel Stanković, Saša Pantelić, Miloš Puletić | 321-328 |
| | | |
| --- | --- | --- |
| | Saša Radoslav Bubanj, Tomislav Gašić, Ratko Stanković, Dragan Radovanović, Borislav Obradović, Mladen Živković | 353-362 |
| | | |
| --- | --- | --- |
| | Slobodan Pavlovic, Dragan Marinković, Višnja Đorđić, Vladan Pelemiš | 363-372 |
| | | |
| --- | --- | --- |
| | Mladen Živković, Stefan Ćirić, Ljiljana Bjelaković, Nikola Stojanović, Nevenka Zrnzević | 373-378 |
| | | |
| --- | --- | --- |
| | Siniša Stojanović, Danijela Zdravković | 379-390 |
| | | |
| --- | --- | --- |
| | Violeta Šiljak, Rade Stefanović, Dejan Đurović, Branimir Mekić, Tatjana Popović Ilić, Marko Isaković | 399-406 |
| | | |
| --- | --- | --- |
| | Miroljub Ivanović, Srdjan Milosavljevic, Uglješa Ivanović | 407-420 |
| | | |
| --- | --- | --- |
| | Luiz Paulo Silva Santos, Maria Lúcia Machado Duarte | 421-433 |