The Facta Universitatis, Series Physical Education and Sport (FU Phys Ed Sport) is an open access peer-reviewed international journal published by the University of Niš (Republic of Serbia). The aim of FU Phys Ed Sport is to publish peer reviewed research and review articles fast without delay in the field of sport physical education and related topics. Papers for publication are selected through peer reviewing to ensure originality, relevance, and readability.
ISSN 1451 740X
Editor-in-Chief: Saša Bubanj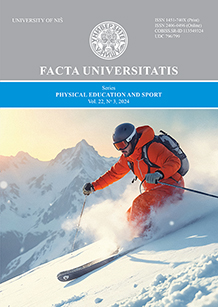 Announcements
XXII International Scientific Conference in Niš "FIS COMMUNICATIONS 2019"

Faculty of Sport and Physical Education, University of Niš
in cooperation with the Ministry of Education, Science and Technological Development of the Republic of Serbia
organizes XXII International Scientific Conference "FIS COMMUNICATIONS 2019" on October 17-19, 2019.

We expect researchers from various fields, such as sports science, education, medical science and other related disciplines.

Organizing Committee

Posted: 2019-06-19
More...
Vol. 17, No 1, 2019
Table of Contents
Articles
| | | |
| --- | --- | --- |
| | Emilija Stojanović | 015-021 |
| | | |
| --- | --- | --- |
| | Borivoje Baltezarević, Vesna Baltezarević | 023-030 |
| | | |
| --- | --- | --- |
| | Duško Mlađenović, Saša Virijević Jovanović | 043-056 |
| | | |
| --- | --- | --- |
| | Konstantinos Sotiropoulos, Karolina Barzouka, Stavroula Tsavdaroglou, Grigoris Malousaris | 057-068 |
| | | |
| --- | --- | --- |
| | Stefan Marković, Zoran Valdevit, Marta Bon, Ljubomir Pavlović, Jelena Ivanović, Milivoj Dopsaj | 069-078 |
| | | |
| --- | --- | --- |
| | Nenad Nedović, Milosav Adamović, Ivana Sretenović | 079-087 |
| | | |
| --- | --- | --- |
| | Slavoljub Uzunović, Goran Šekeljić, Jovan Marković, Predrag Nemec, Danica Piršl, Vesna Nemec, Dejan Stošić | 089-100 |
| | | |
| --- | --- | --- |
| | Maja Batez, Živan Milošević, Marijana Simić, Jelena Obradović | 101-109 |
| | | |
| --- | --- | --- |
| | Vladan Pelemiš, Darijan Ujsasi, Velibor Srdić, Danica Džinović, Slobodan Pavlović | 111-124 |
| | | |
| --- | --- | --- |
| | Mladen Živković, Nenad Stojiljković, Vladimir Antić, Ljubomir Pavlović, Nemanja Stanković, Bojan Jorgić | 125-133 |
| | | |
| --- | --- | --- |
| | Fábio Dal Bello, Esteban Aedo-Muñoz, Ciro José Brito, Bianca Miarka | 135-148 |
| | | |
| --- | --- | --- |
| | Zoran Đokić, Gunter Straub, Ivan Malagoli Lanzoni, Michail Katsikadelis, Goran Munivrana | 149-163 |