The Facta Universitatis, Series Physical Education and Sport (FU Phys Ed Sport) is an open access peer-reviewed international journal published by the University of Niš (Republic of Serbia). The aim of FU Phys Ed Sport is to publish peer reviewed research and review articles fast without delay in the field of sport physical education and related topics. Papers for publication are selected through peer reviewing to ensure originality, relevance, and readability.
ISSN 1451 740X
Editor-in-Chief: Zoran Milanović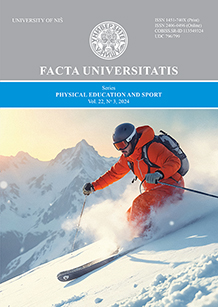 The ONLINE FIRST section of FU Phys Ed Sport lists the papers accepted for publication and copy edited but not yet assigned to an issue.
Reviewers - We gratefully acknowledge the contribution of the reviewers who reviewed papers for Facta Universitatis Series Physical Education and Sport in 2020.
Announcements
XXIII International Scientific Conference in Niš "FIS COMMUNICATIONS 2021"

Faculty of Sport and Physical Education, University of Niš
in cooperation with the Ministry of Education, Science and Technological Development of the Republic of Serbia
organizes XXIII International Scientific Conference "FIS COMMUNICATIONS 2021" on October 21-23, 2021.

We expect researchers from various fields, such as sports science, education, medical science and other related disciplines.

Organizing Committee

Posted: 2019-11-19
More...
Vol. 18, No 3, 2020
Table of Contents
Articles
| | | |
| --- | --- | --- |
| | Zoran Momčilović, Darko Stojanović, Vladimir Momčilović | 525-533 |
| | | |
| --- | --- | --- |
| | Nenad Selaković, Željko Krneta | 535-545 |
| | | |
| --- | --- | --- |
| | Tamara Kostić Pahnoglu, Tanja Cvetković | 547-552 |
| | | |
| --- | --- | --- |
| | Miloš Lukić, Adam Petrović, Nemanja Ćopić, Svetlana Petronijević, Srećko Jovanović | 559-566 |
| | | |
| --- | --- | --- |
| | Dušan Stanković, Miodrag Kocić, Saša Milenković, Saša Bubanj | 567-575 |
| | | |
| --- | --- | --- |
| | Miklós Koltai, Ádám Gusztafik, Katalin Nagyváradi, Bálint Szeiler, Szabolcs Halasi, Josip Lepeš | 577-588 |
| | | |
| --- | --- | --- |
| | Ana Vesković, Ana Orlić, Goran Nešić | 589-600 |
| | | |
| --- | --- | --- |
| | Vasilios Koronas, Nikolaos Koutlianos | 601-609 |
| | | |
| --- | --- | --- |
| | Jovana Trbojević, Jelica Petrović | 611-619 |
| | | |
| --- | --- | --- |
| | Aleksandar Stojadinović, Danijela Zdravković, Vesna Zdravković | 621-634 |
| | | |
| --- | --- | --- |
| | Carlota Krahe, Paloma Escamilla-Fajardo, Samuel López-Carril | 635-647 |
| | | |
| --- | --- | --- |
| | Jelena Osmanović, Jelena Maksimović, Milica Dimitrijević | 649-665 |
| | | |
| --- | --- | --- |
| | Nikola Prvulović, Ana Lilić, Miljan Hadžović | 667-679 |
| | | |
| --- | --- | --- |
| | Pablo Prieto-González, Jaromir Sedlacek | 681-692 |