The Facta Universitatis, Series Physical Education and Sport (FU Phys Ed Sport) is an open access peer-reviewed international journal published by the University of Niš (Republic of Serbia). The aim of FU Phys Ed Sport is to publish peer reviewed research and review articles fast without delay in the field of sport physical education and related topics. Papers for publication are selected through peer reviewing to ensure originality, relevance, and readability.
ISSN 1451 740X
Editor-in-Chief: Saša Bubanj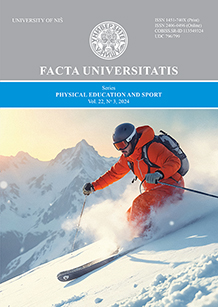 Announcements
XXI International Scientific Conference in Niš "FIS COMMUNICATIONS 2018"

Faculty of Sport and Physical Education, University of Niš
in cooperation with the Ministry of Education, Science and Technological Development of the Republic of Serbia
organizes XXI International Scientific Conference "FIS COMMUNICATIONS 2018" on October 18-20, 2018.

We expect researchers from various fields, such as sports science, education, medical science and other related disciplines.

Organizing Committee

Posted: 2018-01-30
More...
Vol. 16, No 4, 2018
Table of Contents
Articles
| | | |
| --- | --- | --- |
| | Slobodan Simović, Jasmin Komić, Bojan Guzina, Zoran Pajić, Milenko Vojvodić | 709-723 |
| | | |
| --- | --- | --- |
| | Ivana Petrović, Marjan Marinković | 725-737 |
| | | |
| --- | --- | --- |
| | Milan Mitić, Miloš Paunović, Mladen Živković, Nikola Stojanović, Ivana Bojić, Miodrag Kocić | 739-747 |
| | | |
| --- | --- | --- |
| | Bojan Jorgić, Petra Mančić, Saša Milenković, Nikola Jevtić, Mladen Živković | 749-759 |
| | | |
| --- | --- | --- |
| | Dobrica Živković, Slađan Karaleić, Ivana Anđelković, Nikola Aksović | 761-781 |