Facta Universitatis, Series: Law and politics

The Facta Universitatis, Series: Law and Politics (FU Law Pol) is an open access, semiannually, peer-reviewed international journal published by the University of Niš (Republic of Serbia). We publish high quality, refereed papers twice per year. Papers reporting original research or extended versions of the already published conference/journal papers are all welcome. Papers for publication are selected through peer reviewing to ensure originality, relevance, and readability. The Journal features high-quality original papers in English (preferably), as well as in other leading world languages, such as French or German. Papers and book reviews addressing a diverse range of topics of law and poltics will be welcomed by the Editorial board. FU Law Pol hopes that Researchers, Research scholars, Academicians etc. would make use of this journal publication for the development of law and politics.

Editor-in-Chief: Prof. Dejan Vučetić, LL.D.
Technical Assistance: Vladimir Blagojević, BSc, Faculty of Law, University of Niš, Nenad Milošević, Faculty of Law, University of Niš
Proofreader:
Gordana Ignjatović, University of Nis, Faculty of Law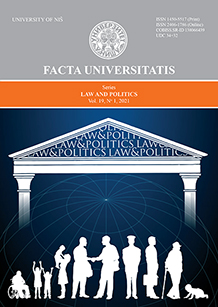 Announcements
CALL FOR PAPERS for a special issue of Facta Universitatis: "Law, Economics and Public Policy".

This Call for Papers is aimed at bringing together a selected number of scholars and associates from the academic community who wish to participate in the original research project titled "Law, Economics and Public Policy".


We hereby invite all interested parties to submit scientific papers, review articles, discussion papers, commentaries, book reviews, translation papers, and thematic essays for the thematic issue of scientific journal Facta Universitatis: Law and Politics Series, Vol. 18, No. 3, 2020.

Posted: 2020-05-26
More...
Vol. 18, No 3, 2020
Table of Contents
Articles
| | | |
| --- | --- | --- |
| | Aleksandar Mojašević | 131-145 |
| | | |
| --- | --- | --- |
| | Dejan Vučetić, Predrag Dimitrijević | 147-160 |
| | | |
| --- | --- | --- |
| | Anka Mihajlov Prokopovic, Marija Vujović | 175-183 |
| | | |
| --- | --- | --- |
| | Marija Dragićević | 185-196 |
| | | |
| --- | --- | --- |
| | Marko Dimitrijević, Srđan Golubović | 197-206 |
| | | |
| --- | --- | --- |
| | Filip Mirić, Dragana Rodić Aranđelović | 207-212 |
| | | |
| --- | --- | --- |
| | Andrej Blagojević | 213-224 |