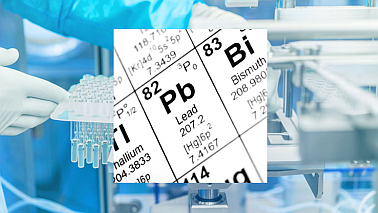 LEAD – A PREANALYTICAL/ANALYTICAL VARIABLE IN CLINICAL CHEMISTRY
Abstract
Lead is one of the most studied clinically important metals due its high toxicity and a high number of workers exposed to it. The interest toward Pb is elevated by the fact that children are especially susceptible to lead poisoning. Research regarding lead poisoning requires a complex, multi-disciplinary (clinical medical and clinical chemical) approach. Monitoring human exposure to lead (intake, i.e. poisoning) may be achieved by quantification of Pb in tissues and body fluids. For that reason, a number of accurate and reliable analytical methods for the determination of Pb (analytical/preanalytical variable) were developed. An objective of this review paper is to provide key information necessary for proper interpretation of results of lead related clinical/laboratory tests.
OLOVO - PREANALITIČKA/ANALITIČKA VARIJABLA U KLINIČKOJ HEMIJI
Olovo spada u red najizučavanijih klinički relevantnih metala zbog svoje toksičnosti i broja radnika izloženih ovom metalu. Povećano interesovanje prema ovom metalu je posledica i toga što su deca naročito podložna trovanju njime. Ispitivanja koja se tiču trovanja olovom zahtevaju kompleksan, multidisciplinaran (kliničko-medicinski i kliničko-hemijski) pristup. Monitoring izlaganja olovu (unos, odnosno trovanje) se može ostvariti kvantifikacijom Pb u tkivima i telesnim tečnostima. Iz tog razloga je razvijen veliki broj preciznih i pouzdanih metoda za njegovo određivanje (analitička/preanalitička varijabla). Cilj ovog preglednog članka je da sumira ključne informacije neophodne za valjanu interpretaciju rezultata kliničkih/laboratorijskih testova vezanih za olovo.
Refbacks
There are currently no refbacks.
ISSN 0354-4656 (print)
ISSN 2406-0879 (online)