Facta Universitatis. Series: Physics, Chemistry and Technology (FU Phys Chem Tech) is an international, peer-reviewed, Open Access journal devoted to basic and applied research in physics, chemistry and technology with the experience of almost twenty years of publishing of high quality research. The journal features topics in all areas of physics, chemistry and technology and related disciplines. The content is freely accessible online and authors can publish scientific articles free of charge as the journal is completely funded by the University of Niš and the Ministry of Education, Science and Technological Development of the Republic of Serbia.
Editor-in-Chief: Niko Radulović
In order to create/register an account for submitting a paper, first time authors are to contact the Computer Support at mile@ni.ac.rs stating your first name, last name, affiliation with the link, and your email. We will then send you back an email with your login parameters. Once you receive your parameters from us you will then be able to log in and begin article submission.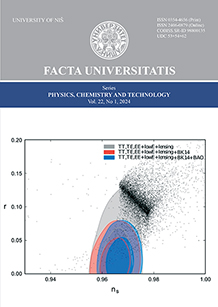 Announcements
Call for papers

FU PCT welcomes contributions from any field of physics, chemistry or technology
Posted: 2013-05-23
Vol. 20, No 1, 2022