Facta Universitatis, Series: Linguistics and Literature (FU Ling Lit) is an open access, biannual, peer-reviewed international journal that provides a venue for the dissemination of research findings in language and literature studies, encompassing a wide theoretical and methodological scope in the areas of study. The Journal is published by the Publishing unit of Niš University, Serbia, and has obtained the status of a leading national academic journal. It was established in 1996 as a separate section of Facta Universitatis, with only one volume per year. Since 2009 the Journal has been published semi-annually. The Journal features high-quality original papers in English (preferably), as well as in other leading world languages, such as French, German and Russian. Papers and book reviews addressing a diverse range of topics, as well as a wide gamut of approaches within linguistics, literature, and cultural studies will be welcomed by the Editorial board.
Editor-in-Chief: Violeta Stojičić
In order to create/register an account for submitting a paper, first time authors are to contact the Computer Support at mile@ni.ac.rs stating your first name, last name, affiliation with the link, and your email. We will then send you back an email with your login parameters. Once you receive your parameters from us you will then be able to log in and begin article submission.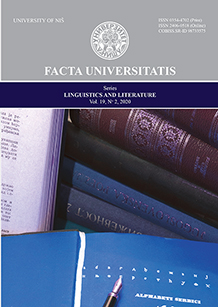 Reviewers - FACTA UNIVERSITATIS Series: Linguistics and Literature would like to acknowledge the expertise of the following reviewers, which has helped to set the standard of the journal in  2022, 2021,  2020 and 2019.
The ONLINE FIRST section of FU Ling Lit lists the papers accepted for publication and copy edited but not yet assigned to an issue.
Announcements
No announcements have been published.
Vol. 21, No 1, 2023
Table of Contents
| | | |
| --- | --- | --- |
| | Lidija Beko, Marija Đorđević | 001-010 |
| | | |
| --- | --- | --- |
| | Nikolina Kuruzović, Valentina Đorić, Ivana Novakov | 011-024 |
| | | |
| --- | --- | --- |
| | Natalija Stevanović, Vesna Lopičić | 041-051 |
| | | |
| --- | --- | --- |
| | Milica Živković, Nikola Petrović | 053-065 |
| | | |
| --- | --- | --- |
| | Danijela Petković | 067-080 |
| | | |
| --- | --- | --- |
| | Tatjana Paunović, Ljiljana Marković, Ema Živković | 081-093 |
| | | |
| --- | --- | --- |
| | Ljiljana Mihajlović | 105-116 |
| | | |
| --- | --- | --- |
| | Nataša Tučev, Dušica Ljubinković | 125-132 |
| | | |
| --- | --- | --- |
| | Ana Kocić Stanković, Marko Mitić | 133-141 |
Book Reviews
Tvrtko Prćić, Jasmina Dražić, Mira Milić, Milan Ajdžanović, Sonja Filipović Kovačević, Olga Panić Kavgić, Strahinja Stepanov SRPSKI REČNIK NOVIJIH ANGLICIZAMA [A SERBIAN DICTIONARY OF RECENT ANGLICISMS]

Biljana Mišić Ilić

143-145
Alexander Tokar INTRODUCTION TO ENGLISH MORPHOLOGY

Vladimir Ž. Jovanović

147-150
Anatol Stefanowitsch CORPUS LINGUISTICS: A GUIDE TO THE METHODOLOGY

Vladan Pavlović

151-153
Howard Jackson GRAMMAR AND MEANING, A SEMANTIC APPROACH TO ENGLISH GRAMMAR

Ljiljana Janković

155-156
Winters, Margaret E. & Geoffrey S. Nathan COGNITIVE LINGUISTICS FOR LINGUISTS

Marta Veličković

157-158
Richard Walsh THE RHETORIC OF FICTIONALITY

Sanja Ignjatović

159-161
Aleksandra Janić, Dušan Stamenković ENGLESKO-SRPSKA KONTRASTIVNA LEKSIKOLOGIJA [ENGLISH-SERBIAN CONTRASTIVE LEXICOLOGY]

Dejan Pavlović

163-166