Facta Universitatis, Series: Teaching, Learning and Teacher Education (FU Teach Learn Teach Ed) is an open access peer-reviewed international journal published by the University of Niš, Serbia and Pedagogical Faculty in Vranje, Serbia.
The journal publishes original papers in the areas of Teaching and Learning and related topics, with a special emphasis on articles in the fields of Teacher Education. Articles dealing with interaction between different fields are welcome.
Editor-in-Chief:
Danijela Zdravković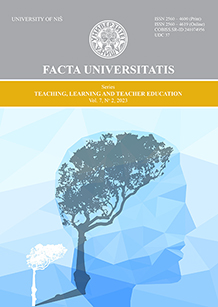 The
ONLINE FIRST
 section of FU Teach Learn Teach Ed
 lists the papers accepted for publication and copy edited but not yet assigned to an issue.
Announcements
No announcements have been published.
Vol. 5, No 1, 2021
Table of Contents
Articles
| | | |
| --- | --- | --- |
| | Oluwatoyin Ogunmodimu, Akeem Tunde Nafiu, Emmanuel Makoji Egwu, Abubakar Ibrahim Jibo | 001-019 |
| | | |
| --- | --- | --- |
| | Joni Susanto, Chindy Hanggara Rosa Indah | 021-034 |
| | | |
| --- | --- | --- |
| | Milan Zlatanovic, Victor Aguilar | 035-051 |
| | | |
| --- | --- | --- |
| | Nikola Stojanović, Zvezdan Savić, Darko Stojanović, Jovana Stišović | 053-063 |
| | | |
| --- | --- | --- |
| | Mariana Mincheva Garmidolova (Moynova) | 065-070 |
| | | |
| --- | --- | --- |
| | Viola Mounir, Ereny Gobrial | 071-085 |
| | | |
| --- | --- | --- |
| | Stoyanka Lyubomirova Georgieva-Lazarova, Lachezar Ivanov Lazarov | 099-114 |