Facta Universitatis, Series: Teaching, Learning and Teacher Education (FU Teach Learn Teach Ed) is an open access peer-reviewed international journal published by the University of Niš, Serbia and Pedagogical Faculty in Vranje, Serbia.
The journal publishes original papers in the areas of Teaching and Learning and related topics, with a special emphasis on articles in the fields of Teacher Education. Articles dealing with interaction between different fields are welcome.
Editor-in-Chief: Danijela Zdravković
In order to create/register an account for submitting a paper, first time authors are to contact the Computer Support at mile@ni.ac.rs stating your first name, last name, affiliation with the link, and your email. We will then send you back an email with your login parameters. Once you receive your parameters from us you will then be able to log in and begin article submission.
General Journal guidelines for authors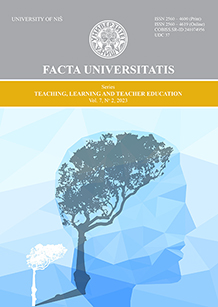 The
ONLINE FIRST
 section of FU Teach Learn Teach Ed
 lists the papers accepted for publication and copy edited but not yet assigned to an issue.
Announcements
No announcements have been published.
Vol. 7, No 1, Special Issue, 2023
Table of Contents
Articles
| | | |
| --- | --- | --- |
| | Nela Malinović-Jovanović, Milica Ristić | i-ii |
| | | |
| --- | --- | --- |
| | Dragana Jovanović | 019-032 |
| | | |
| --- | --- | --- |
| | Branislav Ranđelović, Elizabeta Karalić, Danijela Djukić | 033-044 |
| | | |
| --- | --- | --- |
| | Alexandra Gkontzou, Dimitrios Zachos | 045-055 |
| | | |
| --- | --- | --- |
| | Efstathios Xafakos, Aikaterini Vassiou, Vasileios Stavropoulos, Vassiliki Tzika | 057-063 |
| | | |
| --- | --- | --- |
| | Marija Jovanović, Dragana Dimitrijević | 065-076 |
| | | |
| --- | --- | --- |
| | Efstathios Xafakos, Aikaterini Vasiou, Vasilliki Tzika, Vasileios Stavropoulos | 077-084 |
| | | |
| --- | --- | --- |
| | Akeem Tunde Nafiu, Juwon Johnson Orugun, Dare Joseph Enimola | 085-094 |
| | | |
| --- | --- | --- |
| | Daniel Doz, Darjo Felda, Mara Cotič | 095-102 |
| | | |
| --- | --- | --- |
| | Tatjana Koteva-Mojsovska | 115-122 |
| | | |
| --- | --- | --- |
| | Tamara Vukić, Vesna Nikolić | 135-145 |
| | | |
| --- | --- | --- |
| | Siniša Stojanović | 147-159 |
| | | |
| --- | --- | --- |
| | Ljubiša Mitrović, Danijela Zdravković | 161-167 |
| | | |
| --- | --- | --- |
| | Aleksandra Milanović, Sanja Anđelković, Aleksandar Stojadinović | 169-179 |
| | | |
| --- | --- | --- |
| | Christos Tsantakis | 181-188 |
| | | |
| --- | --- | --- |
| | Biljana Novković Cvetković, Ana Spasić Stošić, Ivana Tasić Mitić | 189-199 |
| | | |
| --- | --- | --- |
| | Milica Dimitrijević | 201-211 |
| | | |
| --- | --- | --- |
| | Tatjana Kilibarda, Biljana Prodović Milojković, Šćepan Sinanović | 213-222 |
| | | |
| --- | --- | --- |
| | Eriola Qafzezi, Fabiola Kadi | 223-231 |
| | | |
| --- | --- | --- |
| | Daniela Yordanova, Mariana Mincheva Garmidolova | 233-239 |
| | | |
| --- | --- | --- |
| | Suzana Nikodinovska - Bancotovska | 241-250 |